Hello, you! Are you enjoying your long weekend? I know I am. Because I had a small portion of rice, after such a long long time! Yes, we started reintroducing, and so far we had lentils and rice. The husband introduced a little more than me. My dear husband was craving for Dhal, so I made him Dhal served over cauliflower rice for legumes re-intro day.
A couple of hours later, I had hives on my back. Next day, hives on my face, and eczema flared up on my arm. As if that's not enough, 2 pimples popped up on my face. 🙁 Maybe that's why I have never ever fancied lentils. That's probably my body's way of telling me that I'm sensitive to it. I honestly hope that I'm not sensitive to soy or other beans, since it's all legumes. I'd be very sad if I can't have tofu anymore. I'm also hoping that rice will not give me major reactions.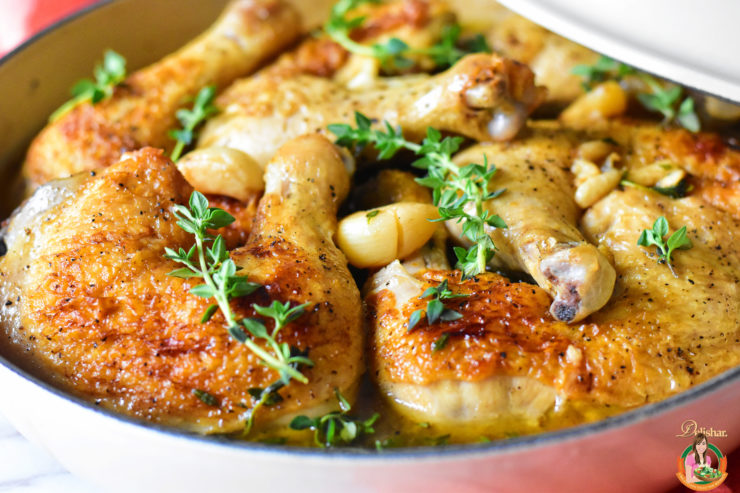 During the reintroduction phase, we are suppose to reintroduce a food group and then go back to Whole 30 compliant meals for next 2 days, this is to make sure any reaction can be attributed back to the introduced food group. The reintroduction phase takes about 10 days to complete. So during the 2 days of back to whole30 compliant food, I made this amazing casserole of gorgeous delicious-ness.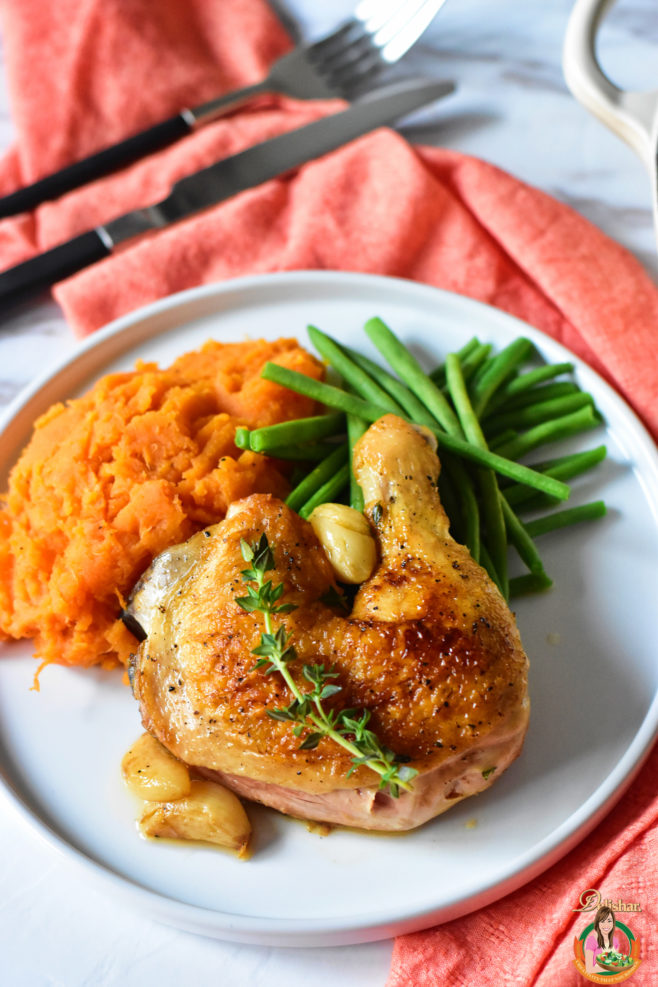 Such simple ingredients, but the result was amazing. Can't really go wrong with perfectly golden chooks, and that much garlic! The sauce, of the sauce… If I could marry it, I would. (Sorry husband :P) I saved the sauce, and to put it on the next few meals we had. The chicken was so succulent, tender, and beautifully flavoured by the garlic, stock, and thyme. Remember to scrape up all that gorgeous fond built up on the pan. That helps to give the dish that extra oomph. 
I know it sounds daunting to peel that much garlic, and may take a long time. Here's a trick I used from FoodWishes.com, to peel 2 heads of garlic in a minute or so. Got my arm workout in by doing that too.
I served it with mashed sweet potatoes, and blanched baby beans. For the mashed sweet potatoes, simply boil it in salted water until tender (12-15 minutes), drain, then mash with ghee/olive oil, chicken stock, & black pepper.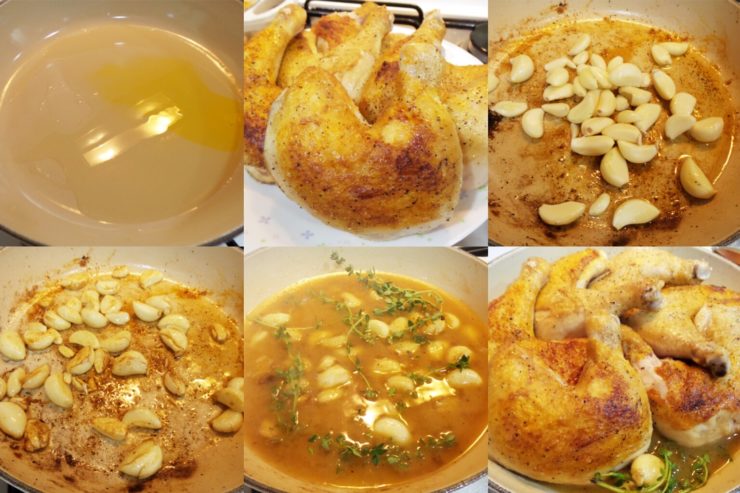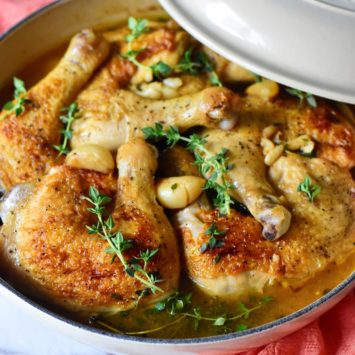 40 Cloves Garlic Chicken (Whole 30, Paleo)
Delishar
3

tbsp

olive oil

40

cloves

garlic

peeled (I used 3 heads without counting)

6

chicken legs

1 1/4

cup

300ml chicken stock (Imagine no-chicken stock)

8

sprigs thyme

but who's counting?

Salt and ground black pepper

to taste
Optional thickener
1

tbsp

arrowroot flour or tapioca flour + 1 tbsp water
Heat oven to 180°C, top and bottom heat only.

Heat oil in French oven (I used 26cm Le Creuset Buffet) over medium-high heat.

Season chicken with salt and pepper.

Add to pan and cook without touching for about 5-7 minutes. The skin will release from the pan when it's golden and ready.

Flip and cook for another 5-7 minutes until golden brown.

Remove from pan, and set aside.

Drain oil, leaving behind about 1-2 tbsp.

Over medium high heat, add garlic to pot

Cook until browned in spots, about 6 minutes.

Then, add chicken stock to cook while scraping the bottom brown bits of the pot and bring to boil.

Add thyme to the garlic and chicken stock.

Transfer chicken back into the pan.

Cover, and bake until chicken is tender, 20-25 minutes.

Remove chicken from the pan, and pour in thickener to make a gravy, stirring constantly over medium heat until thicken.

Garnish with thyme.
If you do not have a buffet casserole, buy one. :p
If not, you can pan fry the chicken on a regular pan, then transfer it to a casserole. Make the garlic and stock in same pan, and pour it over the chicken in the casserole before baking.
Adapted from food network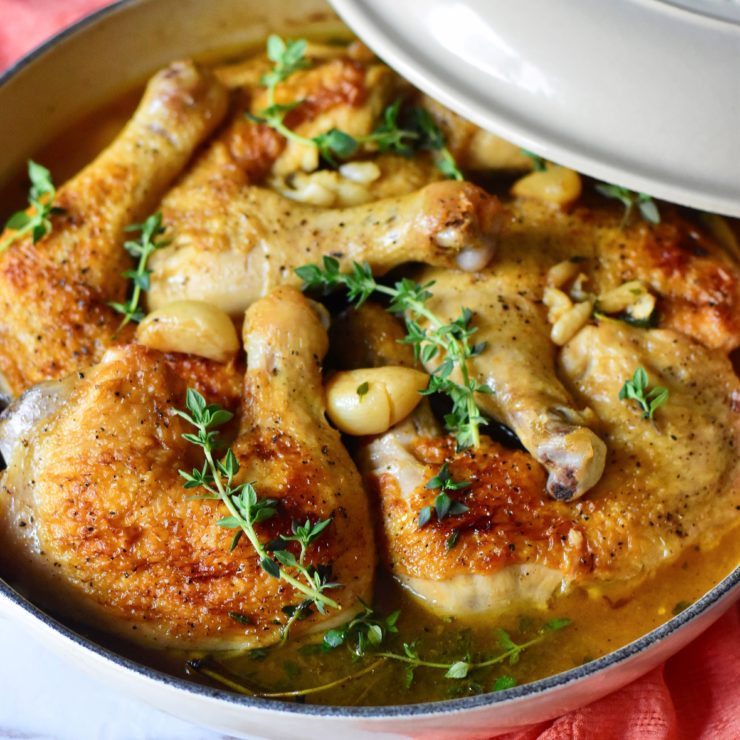 …