I'm a big fan of toffee or salted caramel… I'm also a huge fan of pudding cakes, such as my Sticky Date Pudding, that I absolutely heart to the max! Perhaps it's the sticky and gooey texture that I really enjoy, or that fluffy yet moist cake that acts like a sponge, soaking up all that delicious sauce. Whatever the reason is, this 2 dessert recipes are the ones that I highly recommend you give it a try.
The first time I had this cake was when I was dining at Gorden Ramsay's restaurant, Bread Street Kitchen. I remembered the first bite I took, it literally took my breath away. I closed my eyes, gathered enough strength in me not to melt away, and whispered a "wow". I could not get enough of the cake! Although, I have to be honest that I don't quite fancy the sauce. It was a little too thick, kind of gooey and starchy like in consistency. But the cake was amaze-balls!
So I got home and started researching on sticky banana toffee cake, tried a few. Made a few different sauces to go with it. And here I am. The perfect combination. Try it, and try not to fall in love with it. It is humanly impossible not to.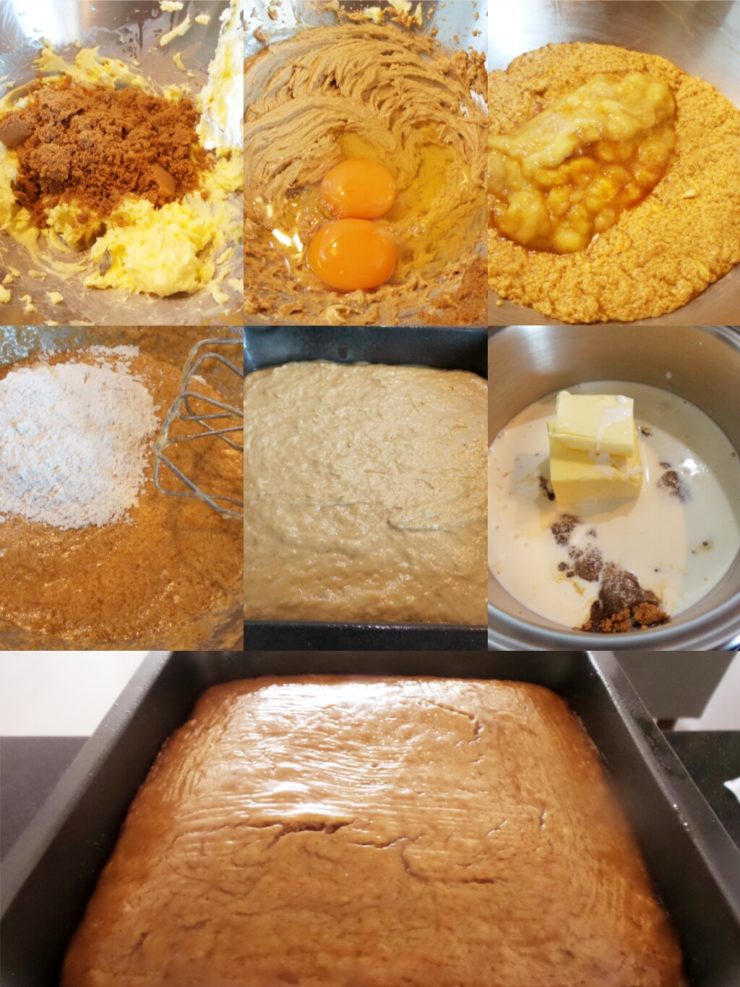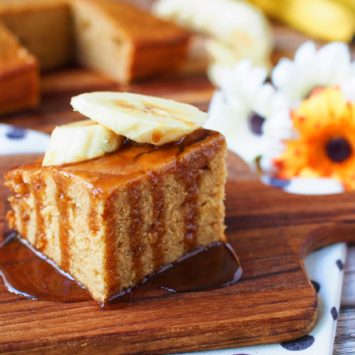 Sticky Banana Toffee Cake
Cake adapted from once upon a chef
Sauce
200

g

brown sugar

200

ml

heavy cream

50

g

butter

1

tsp

vanilla extract
Cake
1-3/4

cups

220g all purpose flour

1

teaspoon

baking powder

1

teaspoon

baking soda

1/2

cup

113g unsalted butter, melted and slightly cooled

3/4

cup

150g sugar

2

large eggs

1

cup

375g very ripe mashed bananas, from 2-3 spotty bananas

2

tablespoons

fresh lemon juice

1-1/2

teaspoons

vanilla extract

1/4

teaspoon

salt
To Serve
1

ripe banana

sliced

Sea salt flakes

Fleur de Sel
Sauce
Add sugar, butter, cream, and vanilla in a heavy bottom sauce pan on low heat.

Melt all the ingredients and bring to boil.

Lower heat and allow sauce to reduce and thicken, about 5 mins.
Cake
Preheat the oven to 175°C.

Grease a 8-inch baking dish.

Whisk together the flour, baking soda, baking powder and salt in a medium bowl.

In a large mixing bowl, mix the melted butter and sugar until blended.

Add the eggs, mashed bananas, lemon juice, and vanilla extract, then mix well.

Stir in the flour mixture until just incorporated.

Do not over mix.

Transfer batter into the prepared pan and bake 35 minutes, until golden brown and skewer inserted comes out clean.

Spread about 1/3 cup (80ml) of the sauce over top of the baked banana cake.

Return the cake back into the oven, bake for another 5-6 minutes to get the sauce bubbly.

Cool the cake in the pan on a rack for at least 30 minutes.
To serve
Slice warm cake into 9 portions, drizzle warm sauce over cake, top with sliced bananas, and a little sprinkle of Fleur de Sel.
…