"You hit the spot" said the husband who is a big fan of Thai Iced Tea. I made at least 3 batches of these babies to give away to people.
A dear friend of mine, Sharron bought a pack of Thai tea leaves back from her Bangkok trip. When she passed some to me, I immediately wanted to mess around with it. At first I was toying with the idea of making a chiffon but very quickly settled for cupcakes. It's been a while since I last made them. Glad I made the right decision to make these babies! Gave some to Sharron, and I'm super glad that her lovely daughter who is a fan of Thai Iced Tea liked it too. 🙂 I'm pretty sure you can purchase the Thai tea leaves from golden mile complex, I saw a seller selling it on qoo10 as well.
Tried out a new technique of SMBC which does not require one to beat the meringue to stiff glossy peaks. However, I found the new recipe a tad bit too sweet as it uses a 1:2:2 ratio of eggs:sugar:butter. When I reduced the sugar, it seems like the buttercream had a much softer consistency which doesn't quite hold its shape in our 34C weather for long. I'll go back to my old Swiss Meringue Buttercream recipe that's more stable.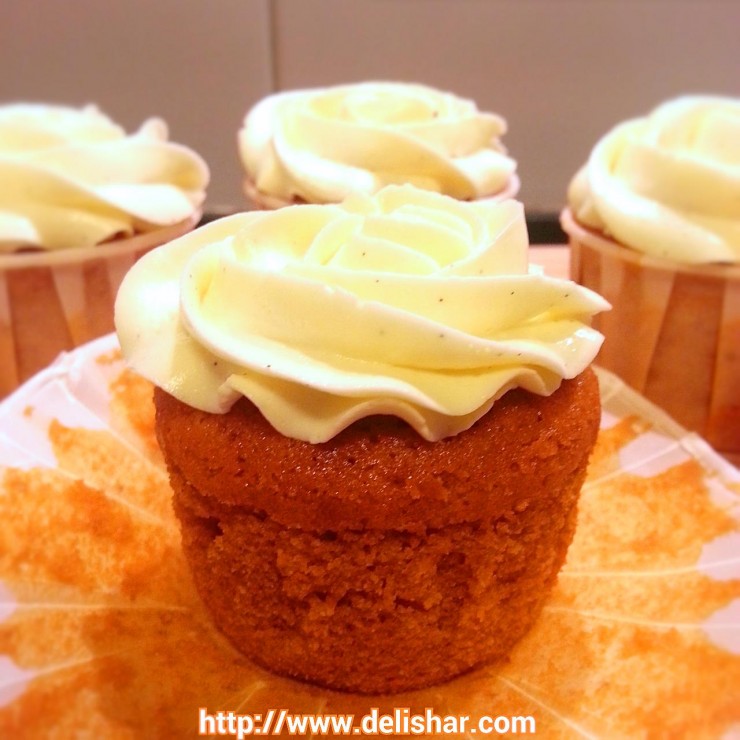 Don't you just want to take a bite into that luscious and velvety SMBC?! And that cupcake was moist, fluffy, milky, and addictive! I had one right after I finished frosting. At first cut only 1/4 for a taste test but couldn't help myself but to gobble down the rest of the cupcake. And I'll confess… I had another for breakfast! 😛
Don't forget to participate in the current giveaway!! 5 pairs of Each-a-Cup drink vouchers to giveaway! Click HERE for details!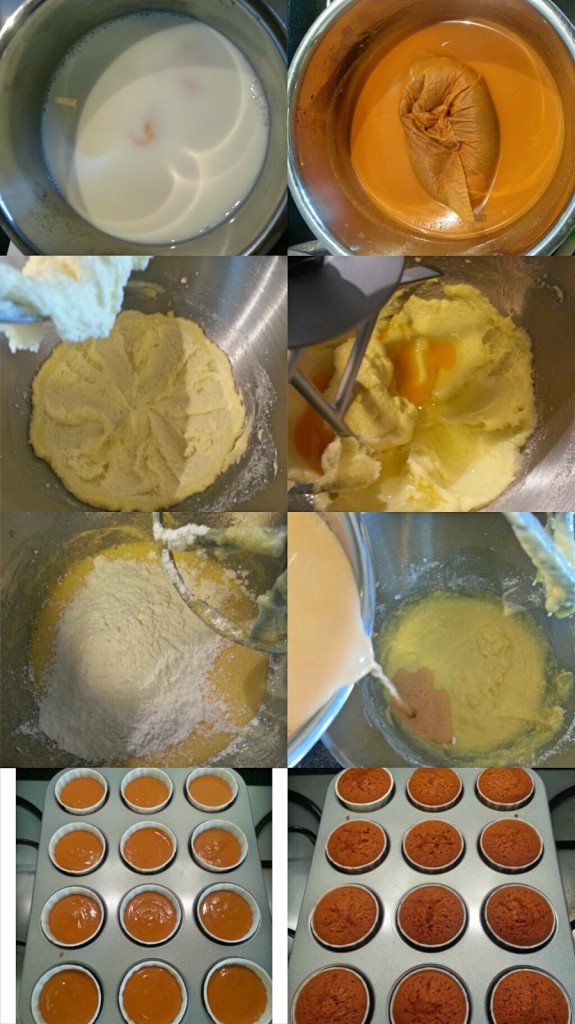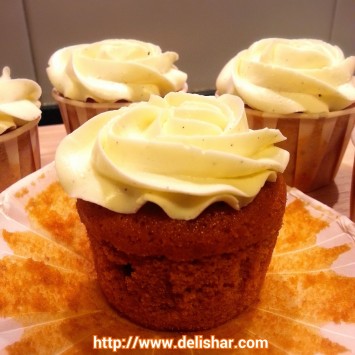 Thai Iced Tea Cupcakes
Sharon of delishar
Cupcakes
1/2

cup

butter

113g, softened

1

cup

evaporated milk or fresh milk

2

tbsp

condensed milk

1/4

cup 

+ 2 tbsp Thai Iced Tea Leaves

1

& 1/4 cups + 2 tbsp cake flour

1

& 1/4 tsp baking powder

1/4

tsp

salt

1

& 1/2 tsp vanilla extract

2

eggs

room temp

3/4

cup

sugar

1/2

batch of condensed milk vanilla bean SMBC recipe included
Condensed Milk Vanilla SMBC
6

egg whites

180g (use fresh ones)

300

g

caster sugar

454

g

unsalted butter

cool but slightly soft cut into 1 inch cubes

1/4

tsp

salt

1

tbsp

vanilla bean paste

2

tbsp

condensed milk
Cupcakes
Method

Preheat oven to 175C.

Line muffin pan with paper liners.

In a saucepan over med low heat, add evaporated milk and condensed milk.

Heat until bubbling at the side, stirring occasionally.

Remove from heat and add tea leaves.

I used a tea baggie so I don't have to strain it.

Cover and allow to sit for 8-10 minutes.

Then strain, making sure you get as much of the liquid mixture as possible.

In a mixing bowl, whisk together baking powder and flour.

Cream butter, salt, and sugar together on med high speed for 1-2 minutes until light and fluffy.

Add vanilla extract.

Beat in eggs one at a time.

Add 1/3 of the flour mixture and mix on low.

Stream in 1/3 of the milk tea mixture.

Alternate between flour and milk tea until done.

Mix until JUST combined! Do not overmix.

Fill cupcake liners to about 3/4 full.

Bake for 20-25 minutes (mine took about 22 minutes) or until a skewer inserted comes out clean or a few moist crumbs.

Leave to cool in tray for 5-10 minutes then transfer to cool completely on wire rack.
Condensed milk SMBC
Place sugar and egg whites in a large heat proof bowl.

Whisk continuously over a double boiler / bain marie (saucepan of simmering water, your bowl should not touch the water!) Make sure you whisk continuously, I would suggest a hand mixer. But if you are like me, and like to work (hard) for your dessert, hand whisk it.

Whisk and whisk until the mixture comes to a temperature of 160F or 71C.

Remove from heat and move mixture to stand mixer.

Whisk until mixture cools down, it can take about 10 minutes.

This is when I took my butter out from the fridge and cut them to about 1 inch by 1 inch cubes.

When meringue is cooled, glossy, and formed firm peaks.

Change to paddle attachment, add in butter cube, one by one on medium speed, allowing butter to be combined before adding another.

Then add your salt, vanilla paste, and condensed milk.

Beat until combined.

Frost your cuppies!
SMBC recipe makes enough to frost 24 cupcakes.
You can freeze the rest in an airtight container for up to 3 months or in chiller for up to a week. 🙂
Adapted from bowenappetit.com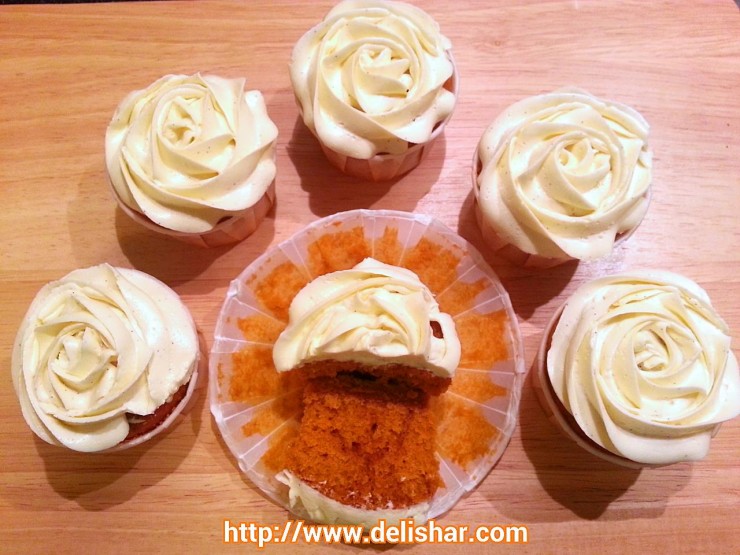 …