"Mummy, can you make meatball pasta for me, please?". This is what my youngest will usually request for when I asked what she would like me to make her. I usually make her favourite beef meatballs with tomato sauce. However, I'm not really a huge fan of tomato sauce, and recently my girls has been asking me to make them pasta with cream sauce.  
I needed some variation to the regular Italian beef meatballs, and as I was spring cleaning my office. I saw an Ikea catalog which led to this recipe. I have no idea why I have never tried making Ikea meatballs before. Especially when I like having it whenever we go to Ikea to shop. Perhaps I was put off by the 'horse' meat saga. lol.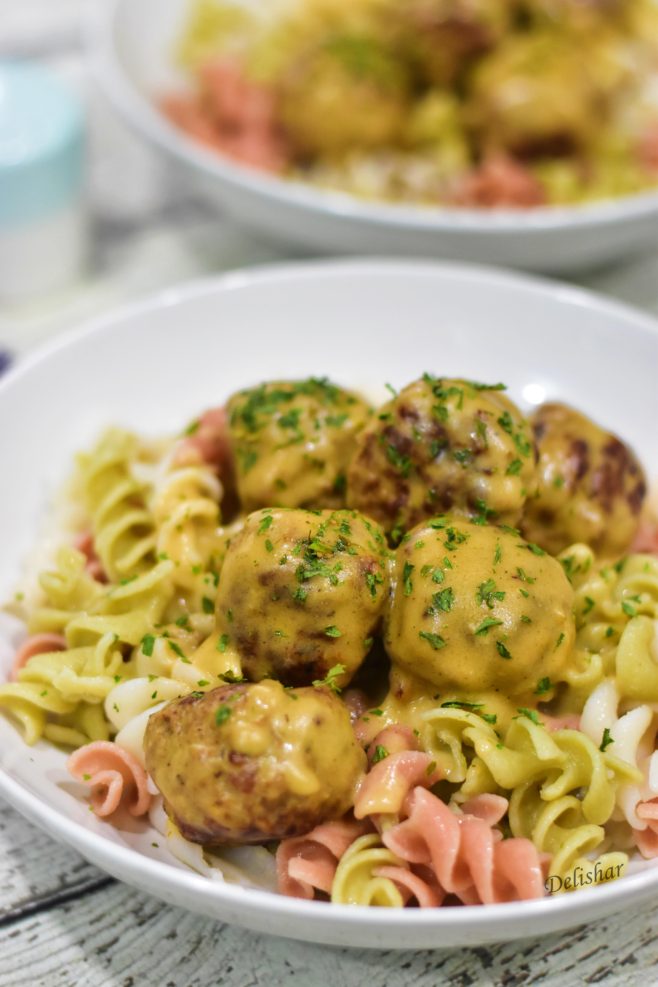 Rest assure, there was no horse used in this recipe. This time, I served it over gluten-free organic pasta for a change. I didn't quite like the texture of it but the husband couldn't tell the difference, neither did the kids. 
When my girls saw what they were having for dinner, both of them went, "Mmmm! My favourite! I'm going to finish everything. Thank you, mummy!!". Dinner that night was a breeze with the kids. The smiles and joy on their little faces make slogging in the kitchen so worthwhile. Not that I slogged at all for this recipe, quite the opposite really. You can pre-make the meatballs, keep them chilled, and cook them when you are ready.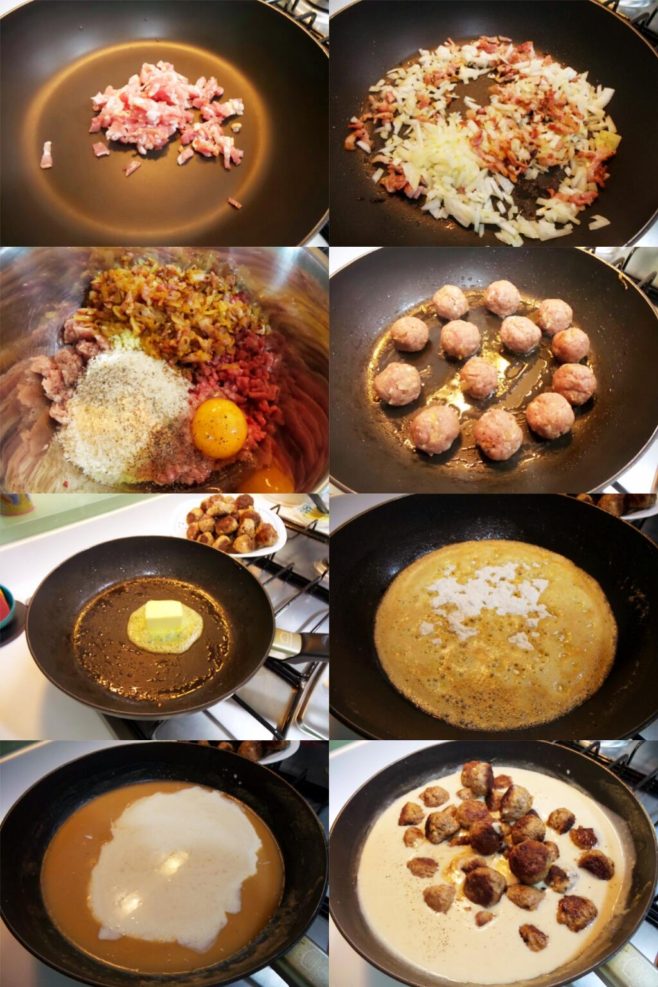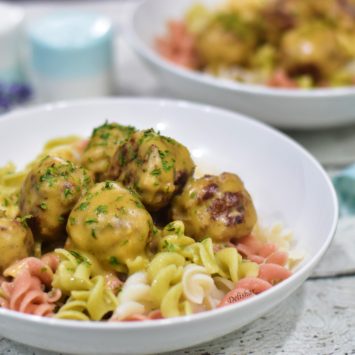 Swedish Meatballs (Ikea Meatballs)
Delishar
Meatballs
300

g

minced beef

250

g

minced pork

4

slices

bacon

chopped

1

medium yellow onion

chopped

4

cloves

garlic

minced

1/2

cup

bread crumbs

1/2

tsp

all spice

1/4

tsp

nutmeg

Salt and black pepper to taste
Gravy
1/4

cup

57g butter

4

tbsp

flour

480

ml

beef broth

200

ml

heavy cream

1-1/2

tbsp

Worcestershire sauce

1-1/2

tsp

dijon mustard

Black pepper to taste
To serve
4

servings of cooked pasta
Cook bacon in a cold pan over medium heat until fat rendered.

Then add onion to cook in bacon fat. If there's not enough fat, add some olive oil.

When onion is soft and translucent, remove from heat, and allow onion and bacon to cool.

In a large mixing bowl, combine minced pork, beef, garlic, all spice, nutmeg, egg, bread crumbs, cooled onions, bacon, and season with salt and black pepper.

Form meatballs into 1.5 inch balls.

In the same pan that you used to cook the bacon, add 1 tbsp olive oil.

Over medium to medium high heat, cook meatballs until brown on all sizes. You may have to do it in batches.

Remove, and set aside.

Melt butter in pan, and stir in flour. Cook until slightly brown.

Then slowly stir in beef broth with a wooden spoon or whisk until combined.

Add cream, mustard, and worcestershire sauce, and bring to a simmer.

Add meatballs, season with black pepper, and bring to a simmer.

Cover and simmer for 10 minutes.

Serve over cooked pasta, and garnish with parsley.
Adapted from Closet Cooking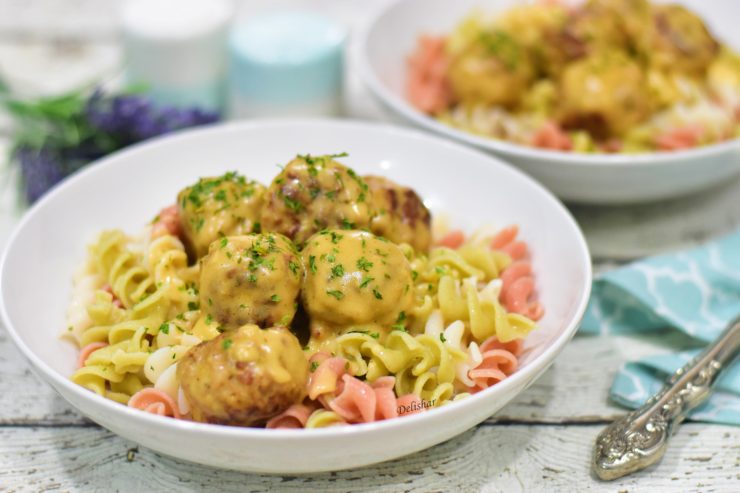 …