Initially, I wanted to make some Sweet and Sour Meatballs for a quick fix meal. But when I looked into my pantry, I found a can of pineapples sitting around. So I changed my mind, and decided to try out something new but similar. I knew that anything sweet & savoury will definitely win the hearts of my little ones, and that would mean that I can save myself some effort in trying to get them to eat their food fast. 
It definitely helps when I'm serving meatballs of any kind. I mean, meatballs on its own is such fun food. The process of making meatballs is also a lot of fun for me. I usually bake my meatballs because it uses less grease, and the fat of the meat drains onto the tray as it cooks. That being said, do remember to line your baking tray for easy clean up. 
The dish turned out great! It tasted a lot like a cross between the Chinese sweet and sour, and Japanese teriyaki. Both a winning dish with the family. The sauce goes very well with steamed rice, and I love the sweetness and crunch of the peppers!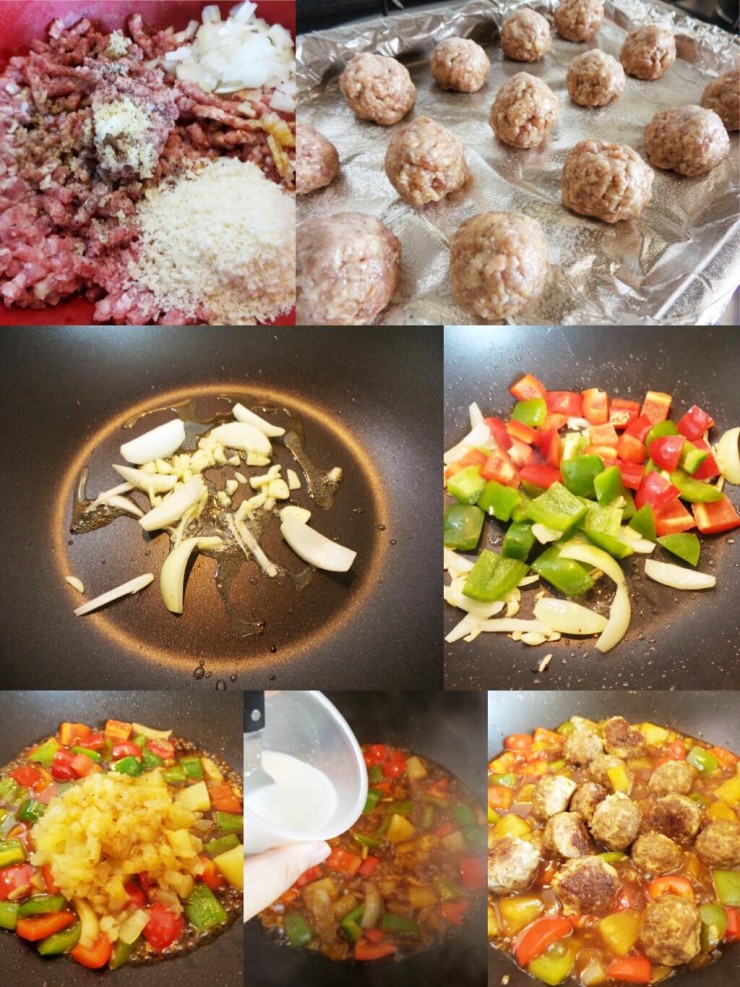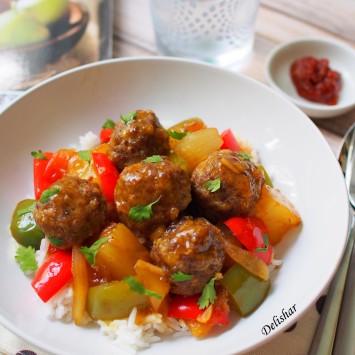 Hawaiian Meatballs
Delishar
Serves 4
Meatballs
500

g

minced beef

1/2

cup

breadcrumbs

1

tbsp

worcestershire sauce

2

cloves

garlic

minced

1/2

yellow onion

minced

2

tbsp

milk

Salt and pepper to taste
Sauce
1

clove

garlic

minced

1/2

yellow onion

sliced

1/2

red pepper

cut into bite sized

1/2

green pepper

cut into bite sized

1/4

cup

soy sauce

2

& 1/2 tbsp brown sugar

1/4

cup

water

1/2

cup

crushed pineapple

I got canned pineapple and chopped it up

1

tbsp

white rice vinegar

Corn starch slurry

Salt and pepper to taste

1

tbsp

cooking oil

Chopped coriander to garnish
Meatball
Preheat oven to 200C.

Mix all the ingredient for meatball together.

Form meatballs about 1 1/2 inch size and place on greased baking sheet an inch apart from each other.

Give the meatballs a light spray of cooking oil.

Bake for 20 minutes or until cooked through.
Sauce
Heat cooking oil in pan over medium high heat.

Saute garlic and onion until onion is soft.

Add peppers and saute for a minute.

Add soy sauce, sugar, water, vinegar, and crushed pineapples.

Season to taste.

Stir in corn starch slurry to thicken sauce.

Add prepared meatballs, and toss to coat.

Remove from heat, garnish, and serve.
…