Starting the day right is important for me, and the best way to start it right is a good breakfast. Recently, I was dinning with my co-workers at a restaurant that serves all day breakfast. On the menu was Spanish hash, which is essentially Chorizo, potatoes, and onions. Served with a poached egg, and hollandaise sauce. The words that got me were hash, and chorizo. I mean, how can it not get to anybody?! What bothered me a bit was the price tag. $25 was pricey. I know, I know, I'm paying for the location blah blah blah. But still it was pricey. Breakfast was good, although I would prefer it to have a little more vegetables and colour. 
So I decided to make my own breakfast hash using my 26cm Le Creuset Skillet, which makes a good portion for 4. Check out their current promotions, if you are intending to get one. I've had friends asked if the food sticks, because it's not teflon coated. Well, I wouldn't use it to fry an egg for the first time. But food generally doesn't stick due to the black satin enamel coating. I wash with warm water only, no soap and up to now, no problem with food sticking. Plus the more you use it, the pan seasons and creates a non-stick surface. Yes, if you are still wondering, no soap. Warm water is enough to get the residue and grease off the pan. Plus, using soap strips off the seasoning from the pan, which is not what we want.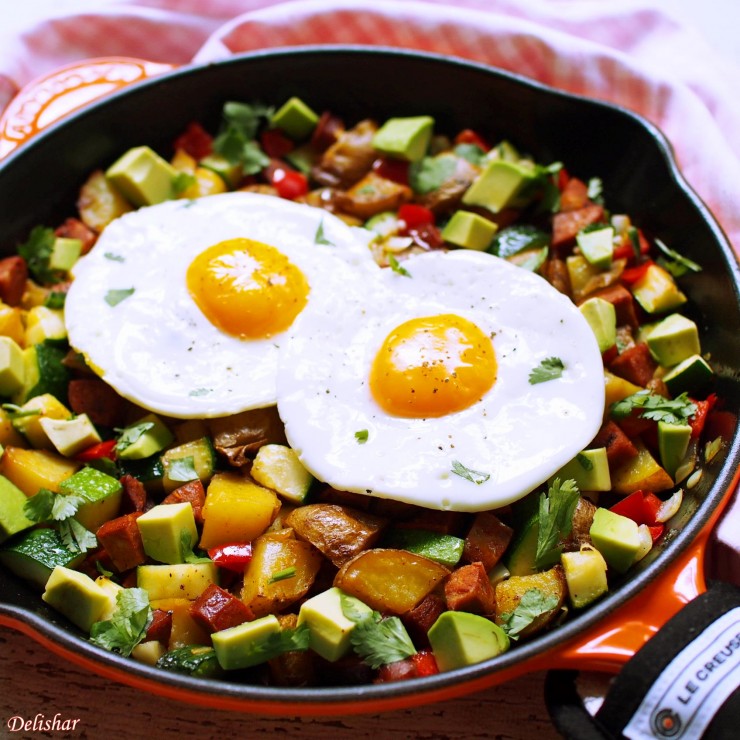 So as I was saying, I decided to make my own Spanish hash. Replacing a few elements of the dish to make it slightly healthier. First, I replaced the Hollandaise sauce for diced avocado. Replacing the high fat and high cholesterol sauce for the creamy/buttery good fats. Of course, you can make some Avocado Hollandaise Sauce (recipe for another time). But I was too lazy, and I like biting into little cubes of avocado.
I added a lot more vegetables to make the dish more visually appealing, with the pop of colours. And of course, vegetables are good for you! Since the husband isn't a big fan of poached eggs, I fried it instead. Trick to a good sunny side up is to sprinkle some water on the underside of the pan cover, then cover it and cook it on low heat. That way the top steams and cook at the same time, and you will get perfect sunny side up eggs. If you have trouble knowing how to pick your avocados, you will find this article helpful.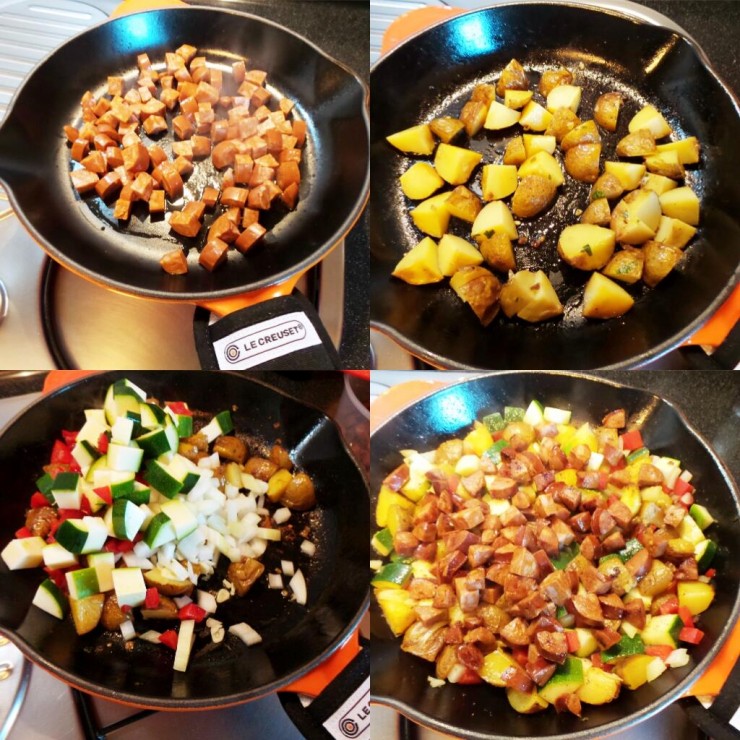 Spanish Breakfast Hash
Delishar
2

chorizo

diced

1/4

yellow onion

diced

2

cloves

garlic

minced

1/2

red pepper

diced

1/2

zucchini

diced

8-10

new potatoes

quartered

1/2

avocado

diced

2

tbsp

chopped cilantro/coriander leaves

4

sunny side up eggs

2

tbsp

olive oil

Salt and pepper to taste

Juice of 1/2 lime
Bring a pot of water to boil, salt it, then boil potatoes until soft (about 10 minutes).

Drain and set aside.

Heat skillet on med high heat, then add 1 tbsp oil.

Saute chorizo until it starts to brown along the edges.

Remove and set aside.

Add the other tablespoon oil, then add potatos.

Pressing it down a little, allow it to brown, and bottom crisp up

Then add onion, garlic, red pepper, and zucchini.

Season with salt and pepper to taste.

Saute until onion is translucent and zucchni is soften.

Add in chorizo, and saute to combine.

Remove from heat, drizzle in lime juice.

Give it a good mix, then top with sunny side up, and avocado.

Garnish with chopped cilantro, and serve.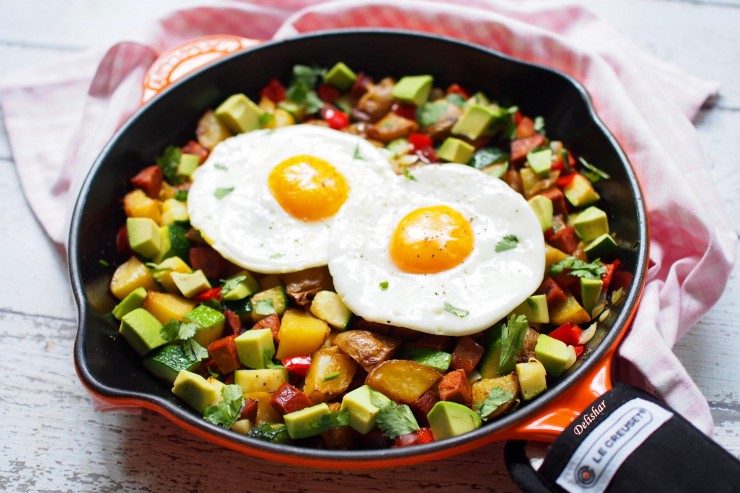 …