Recently, the husband took me to a modern Thai restaurant for our lunch date. I looked through the menu and decided on stepping out of my comfort zone by ordering something new. I had no idea what I will be getting when I ordered the Chiang Mai Noodles. But hey, I have never had bad Thai food before! Excluding those from the USA taste like nothing, and adds almost a can full of bamboo in each dish.
I was pleasantly surprised when the waitress served up a piping hot bowl of thick Thai chicken curry noodles. Hot, spicy, lemak, and chicken that falls off the bone! So delicious, I wished it came in a bigger serving. Although quite honestly, I was already full to the brim.
So as I was planning what to make for dinner after my helper thawed out the chicken mid wings; I thought of making my version of Chiang Mai Noodles. A one pot meal in my Le Creuset French oven of course! Do you know the difference between a Dutch oven and a French oven? A traditional Dutch oven is made fully of cast iron, and a French oven is a Dutch oven coated with enamel. This serves as a protective layer for the bare cast iron from rusting and creates a non-stick surface. The enamel coating also means that there is no need to season the pan after each use, and before storage. Cooking acidic food will not be a problem, unlike bare cast iron where the acid may strip the seasoning on the pan, and result in dis-colouration and metallic-tasting food. Another reason to love my Le Creuset French Oven even more! 
Everything was cooked in the French oven. The rice sticks were cooked in the curry broth, soaking up every ounce of that spicy elixir. The chicken was cooked until it was fall off the bone tender. Just writing up this recipe post is making my mouth water so badly! I guess that's the disadvantage of being a cooking blogger. I practically look at food all day. From researching recipes, impulsively browsing buying recipe books, documenting my recipes, and updating this cooking blog. I am always hungry. So let's get cooking, shall we? 
Don't forget to participate in the current giveaway!! 5 pairs of Each-a-Cup drink vouchers to giveaway! Click HERE for details!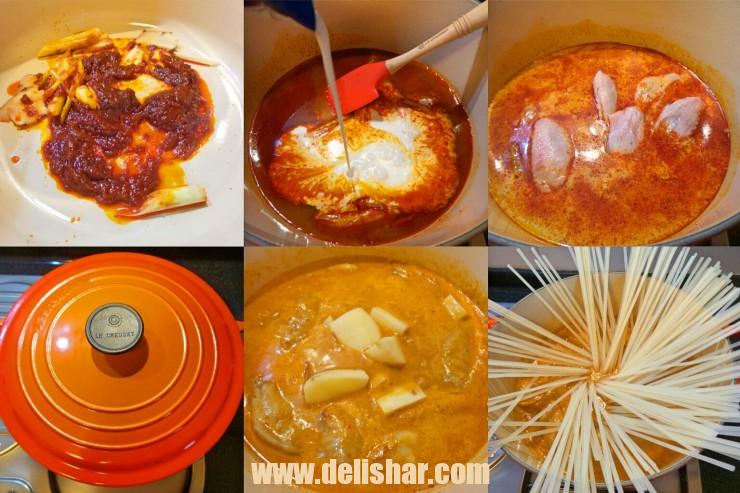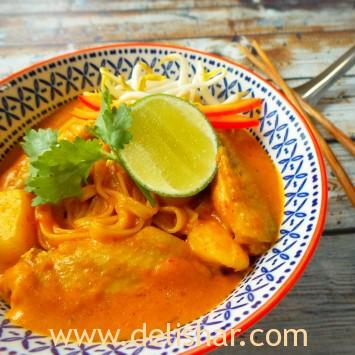 Thai Chicken Curry Noodles
Sharon of Delishar
9

chicken mid wings

4

tbsp

thai red curry paste

or to taste

4

cups

low sodium chicken broth

1

cup

coconut milk

1

russet potato

1 inch cubes

3

servings of dried rice sticks

pad Thai noodles

1

lemongrass

bruised

4

slices

of galangal / blue ginger

3

cloves

garlic

smashed

1

tbsp

oil

optional if your curry paste already has oil

Fish sauce to taste

Handful of bean sprouts

Lime wedge and cilantro to garnish
Heat pan on medium with curry paste, garlic, galangal, and lemongrass.

Saute for a minute until fragrant.

Pour in coconut milk and chicken broth, then bring to boil over medium-high.

Lower heat to medium low and add chicken.

Cover, and allow to simmer for 15 minutes, then add potato cubes.

Cook for about 10 minutes, and add rice noodle stick.

Allow to cook for 7-10 minutes until noodles are soft but not over cooked, and potatoes tender.

Stir constantly to avoid sticking at the base.

Season with fish sauce to taste.

Serve garnished with bean sprouts, lime, and cilantro.
This recipe was made in my trusty 26cm Le Creuset French oven.
I like my bean sprouts raw for the crunch, plus the hot curry will help cook it when stirred in.
You can blanch it if you prefer it cooked.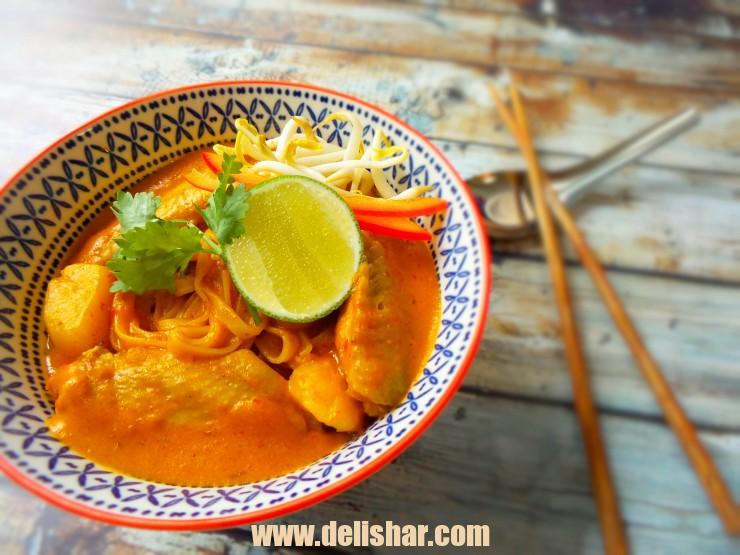 …