Most banana bread recipes that I've tried yields a denser texture. However, this recipe produced a moist, soft, and fluffy banana bread! The secret ingredient used in this recipe is the greek yoghurt. It gives the banana bread it's moistness. The brown sugar gives it a deeper, richer flavour.
I am simply in love with how the banana topping caramelised itself during the baking process. It took me a lot of self-control not to peel off those caramelised banana slices and stuff my face with it. Those melted chocolate bits inside of the banana bread comes as a pleasant surprise with every bite! The best part about this recipe is that it is a one bowl bake. You don't even need a mixer for this. Just measure, mix, pour, and bake.
Since you are here, do check out my Chia Seeds Banana Bread and Healthy Wholemeal Banana Dark Chocolate Chips Bread recipes too!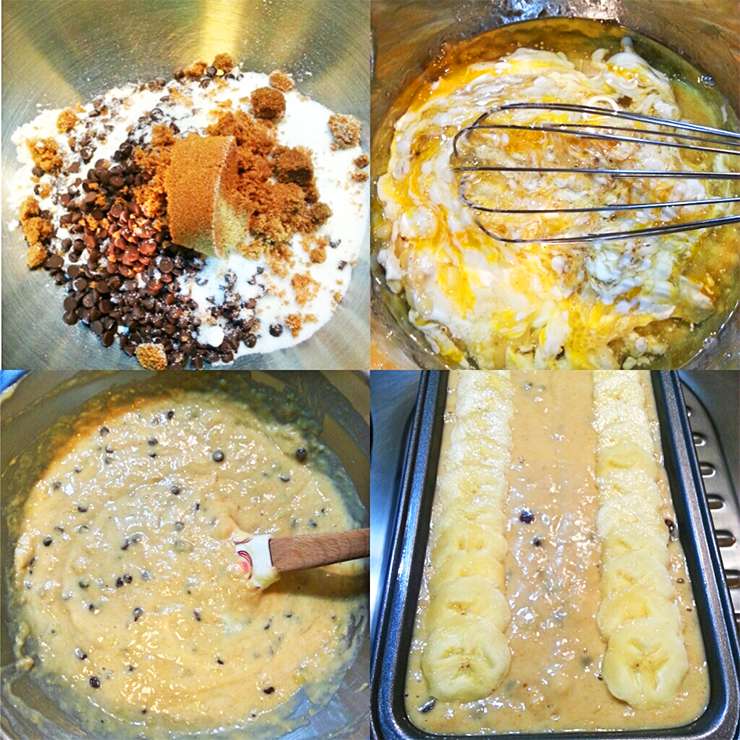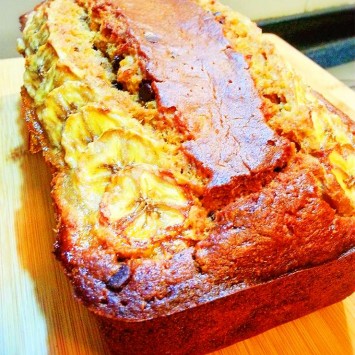 Moist Banana Chocolate Chip Bread
makes adapted from

3/4

cup

wholewheat / wholemeal flour

or all purpose / plain flour if you do not have

3/4

cup

all purpose flour / plain flour

1/4

cup

brown sugar

1/4

cup

castor sugar

1/2

cup

greek yoghurt

yes, you can substitute to plain yoghurt

2

eggs

60g

1/2

cup

vegetable oil

1/4

tsp

salt

1

tsp

baking soda

1

tsp

vanilla bean paste or vanilla extract

1

cup

mashed ripe bananas

about 2-3 large bananas

1/2

cup

semi sweet mini chocolate chips

thinly sliced banana slices to top
Preheat oven to 175C.

Grease your loaf pan.

In a large mixing bowl whisk together the flours, sugars, chocolate chips, salt, and baking soda.

In a large measuring cup, whisk together the eggs, yoghurt, oil, and vanilla extract.

Pour wet ingredients into dry ingredients.

Mix until just combined.Pour into prepared load pan.

Top with sliced bananas on the sides.Bake for 50-60 minutes or until skewer comes out clean.

Let cool in pan for 5-10 minutes, then remove from loaf pan.

Eat warm or completely cooled.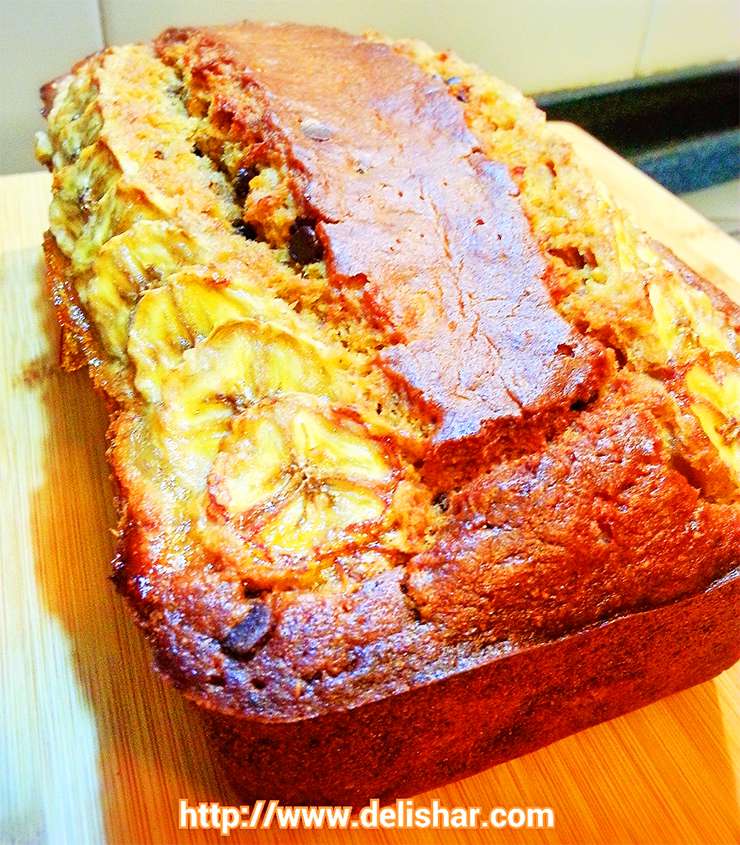 …