Believe it or not, this was actually the first time I cooked with clams. Clams are not something that I'd crave for, and I've had many sandy experiences with Clams when I ordered them at food centres. I wanted to make a dear friend lunch, and knowing that she loves clams, I decided to try cooking them.
I'm really glad that my friend enjoyed her lunch. She eats like a bird (very small portions), but after one regular portion, she said she was still hungry and wanted more! 🙂 Even I enjoyed the meal, given that I am not a big fan of clams. 
Being me, I had to make something Thai fusion, so I thought of Hoi Lai Pad Nam Prik Pao. I bought a bottle of Thai chilli paste from Bangkok during my last trip, and this recipe gives me a reason to use it! Thai chilli paste is mildly spicy, sweet, sour, and has a hint of shrimp paste. It taste a little like sweet sambal chilli, I've not seen it selling at the local supermarket. But I'm sure you can get it at golden mile, or substitute for a sweet chilli paste. Better yet, if you feel up to it, make it from scratch using this recipe HERE. 
Cooking this dish was really simple and took less than 30 minutes from prep to finish. The only inactive time was the soaking of the clams for it to purge out the sand. After rinsing the clams and gently scrubbing its shell. Lay them out on a tray with shallow salt water, then loosely tent it with aluminium foil. Remember to leave vents! Soak for 30 minutes to an hour in a cool area. Rinse again, drain, and you are ready to cook dem clams!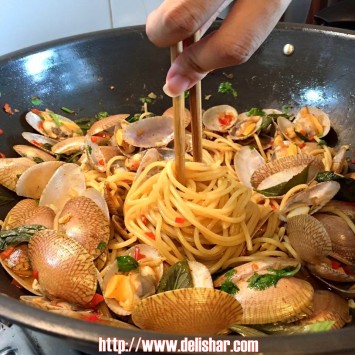 Thai Chilli Paste & Basil Clams Spaghetti
Delishar
This gorgeous mess is also known as Hoi Lai Pad Nam Prik Pao Spaghetti
4

servings of pasta

600

g

clams

1

stalk lemongrass

minced

3

cloves

garlic

minced

1

shallot

minced

2

red chilli

seeded & minced

1/2

tbsp

sugar

1

tbsp

oyster sauce

2

tbsp

Thai chilli paste

Nam Prik Pao

1

tbsp

fish sauce

1

cup

fresh basil

2

tbsp

chopped coriander

1/2

cup

seafood stock/chicken stock

3

tbsp

cooking oil

Juice of 1/2 lime

lime wedges to serve
Cook your pasta 1-2 minutes shy of al dente.

Heat pan on med high, and add oil.

When oil is hot, add garlic, chilli, shallot, and lemongrass.

Saute until soft and fragrant.

Add oyster sauce, fish sauce, sugar, and Thai chilli paste.

Saute for 30 seconds, until combined.

Add clams, and stir fry until half cooked.

Pour in stock, and bring to boil.

Lower heat to medium, and cook till clams are cooked through, and opened up.

Add cooked spaghetti, toss to combined.

Remove from heat, and toss in basil and parsley.

Add juice of 1/2 lime, toss to combined.

Serve immediately with lime wedges on the side.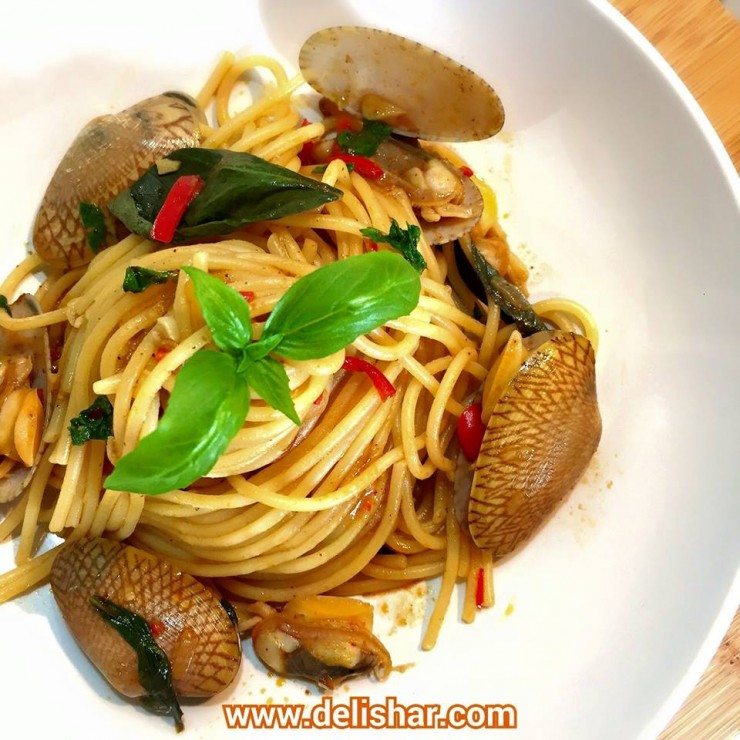 …