Mission Foods wraps has been a staple in our family. I've used it to wrap taco beef, layer tex-mex casseroles, quesadilla, and our favourite Cheesy Enchiladas with Mole Sauce. The kids love to use it to wrap up cucumber sticks, lettuces, and shredded carrot. I've tried other brands of wraps but nothing came close to what Mission wraps had to offer. In the end, it was always Mission Foods wraps that won my heart and taste-buds over and again.
I started enjoying Mission's product when I was dating my husband. He was the one who introduced it to me, when he made me guacamole from scratch (for the first and last time) and served it with tortilla chips. I was blown away by how tasty this healthier corn chips were. And when I was pregnant, I pretty much lived on their wraps. I'll wrap myself a shredded chicken wrap with loads of mixed salad, then dress with balsamic vinaigrette, and pack that for lunch. Since then, I've tried almost all their products, from wraps, to chip, to naan, and none of them disappoint.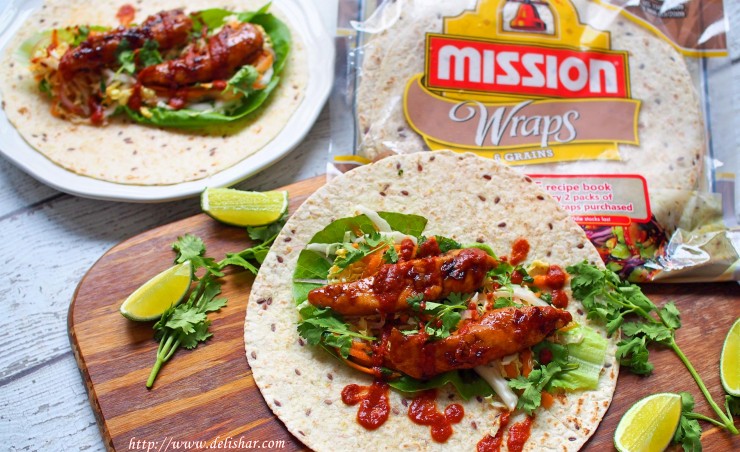 Usually, we will associate wraps with Mexican food, but there's no limits to what you can do with the wraps! So it got me really excited, when I was approached to created an Asian inspired wrap using their new healthy Mission 6 Grain Wraps. Mission 6-Grain wrap contains a combination of six different grains which gives the wrap an all-rounded profile with a slight nutty taste that is not overpowering. The wrap features superfood combination of sunflower seeds, pumpkin seeds, oats, rye, linseeds and wholemeal brans. The Mission 6-Grain wrap is the wrap of choice for those seeking healthier alternatives to regular white bread or rice.
My first instinct was Thai, of course. Like a shrimp mango wrap, or Thai beef salad wrap. But on my list to try for the longest time was the Vietnamese Caramel Chicken. Didn't take me long to convince myself to make this actual dish instead. Made some Vietnamese inspired slaw with refreshing mint to accompany. Because we always needed a bed of crunchy vegetable to lay the protein on. 🙂 
The girls took to the wraps instantly, and has been asking for it everyday now. They love picking on the seeds embedded on the wrap itself. I've been given them the wraps cut up into little pieces, instead of crackers. I can see why they like it. It's tasty, the wraps are not dry, has a slightly chewy bread like texture, and I love that the seeds gives it a little more bite. I think this is going to be the family's new favourite wrap.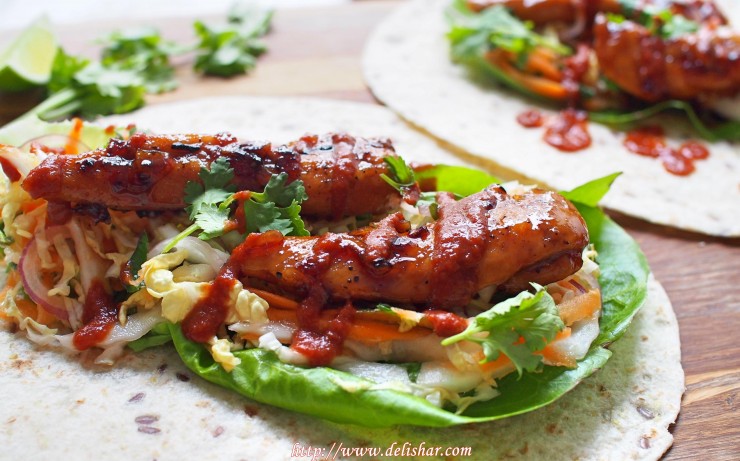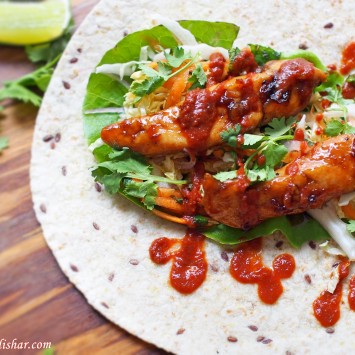 Caramel Chicken Wraps with Asian Slaw
Delishar
Caramel Chicken
350

g

– 400g chicken fillet

1

shallot

diced

2

garlic

minced

1

tbsp

dark soy sauce

1/4

cup

sugar

2

tbsp

fish sauce

2

tbsp

of water

1

tbsp

lime juice

2

tbsp

oil

divided
Asian Slaw
1

tsp

sriracha sauce or to taste

2

cloves

garlic

minced

1

tsp

grated ginger

4

tsp

white sugar

2

tsp

rice vinegar

1 1/2

tbsp

lime juice

1 1/2

tbsp

fish sauce

1

small carrot

shredded

3-4

cups

napa cabbage

thinly sliced

3

tbsp

fresh mint

chopped

1/4

red onion

thinly sliced

black pepper to taste
To assemble
2 to 4

Mission 6 Grain Wraps

Asian Slaw

Romaine lettuce

Cilantro

Lime wedge

Sriracha Sauce

optional
Caramel Chicken
Heat pan, and add 1 tbsp oil.

Brown/sear chicken on both sides, then remove from pan.

Don't worry that the chicken is not fully cooked, we will return to pan again.

Add the other 1 tbsp oil, and saute onion & garlic until fragrant.

Then add chicken back in the pan.

Add dark soy, sugar, water, and fish sauce.

Cook until sugar is melted, chicken cooked, and sauce reduced.

Remove from heat and stir in lime juice.
Asian Slaw
Mix sriracha, garlic, ginger, vinegar, fish sauce, lime juice, and sugar together.

Stir until sugar is dissolved.

In a bowl, add cabbage, carrot, onion, and mint.

Pour prepared dressing over, then toss to coat.

You can make this a day before and leave it to marinate in the chiller.
To assemble
Set wraps on a microwave safe plate, cover with kitchen towel and sprinkle some water on top.

This will keep it from drying out, and heating it makes it more pliable.

Heat on high on 10 seconds blast until warm, and soft.

Place lettuce on top, then Asian slaw, and top with caramel chicken.

Finish with caramel sauce or sriracha if desired.

Garnish with fresh cilantro, and serve with a wedge of lime.
Disclaimer: While this post was made possible by Mission Foods, all opinions are purely of my own.
…