A couple of us were talking about burgers at a kid's birthday party a couple of weeks ago. When the husband mentioned that he have never had pineapple in a burger before, almost immediately we all exclaimed that he has no idea what he was missing!
So when I was planning my meals for the weekend, this was on top of the list. It was really quite a simple meal, because I baked up a batch of prepacked fries to serve together with the burger. Or you can try making some Baked Hand Cut Fries! The patties can be prep a day before, and grill up within minutes. The pineapple needs no other preparation. You can use fresh or canned pineapples for this recipe. I used canned for that night just because it was more convenient.
The kids gobbled their burger up without any fussing or running around. Melody even asked for it to be made again the next day. 🙂 The husband was a little disappointed that I did not make extra portions because he wanted a 2nd serving! I saved the extra teriyaki sauce to drizzle on simple pan-fried salmon the next day. The sauce will go really well with chicken too! 
Don't forget to participate in the current giveaway!! 5 pairs of Each-a-Cup drink vouchers to giveaway! Click HERE for details!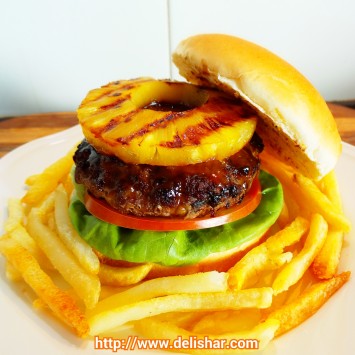 Aloha Burger
Delishar
Patty
600

g

minced beef

1/4

cup

shredded carrot

1/4

cup

chopped scallion

2

tsp

grated ginger

2

cloves

garlic

minced

1

tbsp

soy sauce

Salt and pepper to taste

Oil to grease grill pan
Teriyaki Sauce
2

tsp

corn starch/flour

1/4

cup

cold water

1/4

cup

light soy sauce

1/2

cup

pineapple juice

1

tsp

brown sugar or to taste

1/2

tsp

grated ginger

1

clove

garlic

minced
Toppings
Sliced pineapple rings

Beef tomato

sliced

Butterhead lettuce

Buttered hamburger buns

toasted
Patty
Add all the ingredients for burger patty in a bowl.

Mix until combined, but do not over work it.

Divide into 6 patties, and keep chilled for patty to firm up.

Meanwhile get your other ingredients ready.

When ready to grill, heat grill pan on medium high.

When pan is hot, grill burger patties for 3 minutes on each side on medium heat.

Add or reduce time to your desired done-ness.
Teriyaki Sauce
Mix cold water with corn flour, stir to combine.

In a small saucepan, add soy, pineapple juice, garlic, and ginger.

Bring to simmer, and add sugar to taste.

Then drizzle in cornflour mixture while stirring.

Bring to simmer until sauce thickens.

Remove from heat.
Toppings
Grill pineapple slices, 2-3 minutes each side.

Then build your burger.

On your toasted bun, layer lettuce, tomato, patty, sauce, pineapple, and bun.
4-5 minutes for med-rare
5-6 minutes for medium
7-8 minutes for well done.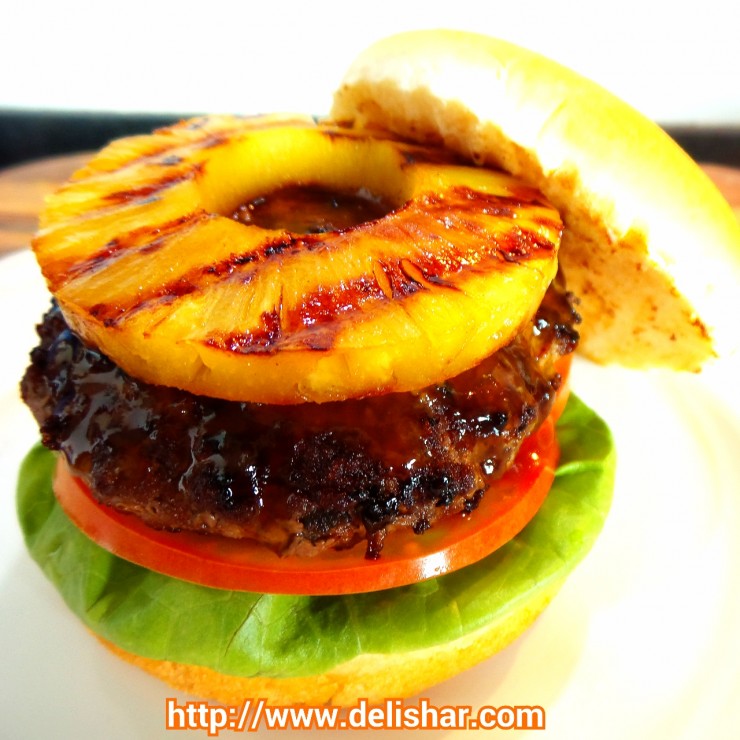 …